Textured Mannequin Face for Lash Extension and Makeup
Regular price
Sale price
$54.99
/
---
· Pre-ordered products require 7 more days than regular shipment;
In stock, ready to ship

Inventory on the way
Textured Silicone Mannequin Face are reusable practice skin for Lash Extension, Makeup & Eyebrow microblading. Vividly simulates realistic human skin textures, helping you master your professional skills quickly.
Discount: Get 1 pair of fluffy 3D faux lashes for free for each practice face.
Features:
• Real skin texture: special textured bionic silicone material simulates human skin. You can even see the 'pores' on the skin
• Multiple-purpose: For practicing makeup skills, lash extensions and microblading skills and trainings.
· For camera-shy makeup artists: this is your perfect replica for makeups. Show your makeup skills and looks without having to show your face;
· For makeup artists with skin issues: use this bionic skin to reduce the damage to your skin when you want to show many makeup looks.
· For makeup artists without models: this practice skin helps you practice on this realistic human face. You can practice for as many times as you wish, without worrying about not having enough models.
· For lash and brow stylists: no more big, heavy mannequin head. This lightweight and portable practice face is easy to carry and allows you to put it into your bag and practice anytime and anywhere.
• Saves money: Reusable by removing the makeups with remover oils or olive oils for next use.
Information:
Raw material: silicone
How to use

:

· Apply foundation on the practice skin first before putting on makeups on it.
· It's recommended to apply eyeshadow with fingers to get better pigment attachment.
· Clean the practice skin with olive oil or makeup removal oils after each use.
· When putting on faux lashes, wait for 30 seconds after applying lash glue, otherwise the faux lashes won't attach well on silicone material.
Examples of makeup looks: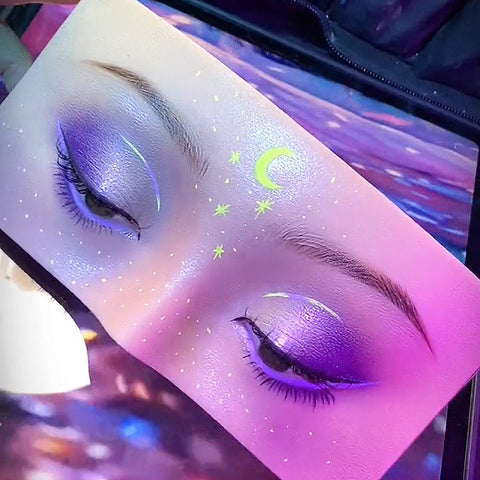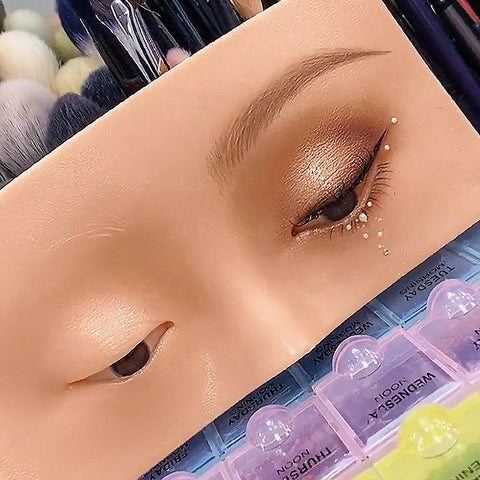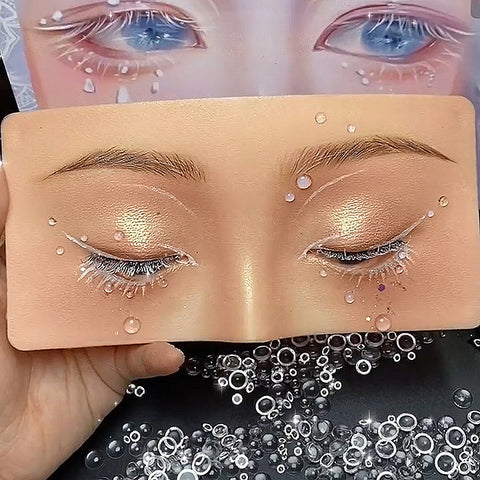 More tutorials: 
🔗 YouTube Playlist. Follow us on YouTube to keep updated with more tutorials.

Pre-ordered products require 7 more days than regular shipment
Important notice about COVID-19 Update on Nov 4, 2022 ★
* Please read before placing the order *
Due to the recent COVID-19 prevention and control regulations and updated customs clearance policy in some countries, the shipping time might be delayed for 7 more days for some areas, especially for flat-rate shipping! Please try to use express shipping service, because it is affected less. We are sorry for the situation. To compensate, if the transit time of your order exceeds 21 days, we will send a gift to you for the delay.
COVID-19 Update
Our warehouse staff and courier partners have been doing a great job to ensure the delivery going as fast as possible during the COVID-19 impact. Despite that, some unexpected delays might occur in logistics and shipping. These factors might cause the delays in shipping: limited flights and shipping space, fewer postal collection from the courier companies, change of import policies in some countries. 
We are not able to control these factors, but we will try our best to communicate and to solve the issues for you. If your parcel is affected by this, we look forward to your kind understanding. Please keep in mind that we want the parcel to deliver asap just as you do.
Thank you so much for your patience and support during this special time.
Confirm
A confirmation email will be sent to you once the order needs authorization. We begin preparing your order immediately after it is verified. With this sort of time frame, it makes it difficult for us to change or cancel your order, however, we will do our best to support your request.
Processing
It usually takes 1-2 business days (24-48 hours) for your order. Pre-ordered items (will be stated on the product page) take 8-9 days to process. We will email you if the processing time takes longer than expected. 
Shipping
1. Orders over $99: 


We offer free express shipping for orders over $99. Shipping will be handled by DHL 
(3-5 Business Days Usually).


Your order must be $99.00 minimum, before taxes & shipping and handling. Cannot be combined with some coupons and offers.


2. Orders over $50: 
We offer free standard shipping for orders over $50. Shipping will be handled by flat-rate courier service (7-10 business days usually). 
Or you can choose to pay $25 for express shipping. Shipping will be handled by DHL (3-5 business days usually).
Your order must be $50.00 minimum, before taxes & shipping and handling. Cannot be combined with some coupons and offers.
3. Orders under $50: 


(1) You can choose to pay $6.99 for standard shipping. Shipping will be handled by flat-rate courier service (7-10 business days usually).
(2) Or you can choose to pay $25 for express shipping. Shipping will be handled by DHL (3-5 business days usually).
The transit time depends on several factors, such as the destination country, the customs, weather etc., which can be hard to be controlled by us. We will work on it all the time to make it better and improved.
Estimated delivery timeframe
Areas
Express Delivery
Standard Delivery 
U.S.A. (except for Outlying Islands)

3-5 Business Days

7-10 Business Days

Brazil

Not supported

10-14 Business Days
Other areas (listed below)
3-5

Business Days

7-10 Business Days
Countries and areas

We currently ship to the following countries or areas:
Australia, Austria, Belgium, Brazil, Canada, Denmark, Finland, France, Germany, Greece, Hong Kong SAR of China, Taiwan Province of China, Hungary, Ireland, Israel, Italy, Japan, Kazakhstan, Luxembourg, Malaysia, Mexico, Netherlands, Norway, Poland, Portugal, Saudi Arabia, Singapore, South Korea, Sweden, Switzerland, Thailand, Turkey, United Kingdom, Vietnam, United States (P.O. boxes are not supported by DHL), New Zealand (16 of 17 regions), Russia, Spain, Indonesia
We do not ship to the following countries or areas:
Afghanistan, Åland Islands, Albania, Algeria, Andorra, Angola, Anguilla, Antigua & Barbuda, Argentina, Armenia, Aruba, Ascension Island, Azerbaijan, Bahamas, Bahrain, Bangladesh, Barbados, Belarus, Belize, Benin, Bermuda, Bhutan, Bolivia, Bosnia & Herzegovina, Botswana, Bouvet Island, British Indian Ocean Territory, British Virgin Islands, Brunei, Bulgaria, Burkina Faso, Burundi, Cambodia, Cameroon, Cape Verde, Caribbean Netherlands, Cayman Islands, Central African Republic, Chad, Chile, Christmas Island, Cocos (Keeling) Islands, Colombia, Comoros, Congo - Brazzaville, Congo - Kinshasa, Cook Islands, Costa Rica, Croatia, Curaçao, Cyprus, Czechia, Côte d'Ivoire, Djibouti, Dominica, Dominican Republic, Ecuador, Egypt, El Salvador, Equatorial Guinea, Eritrea, Estonia, Eswatini, Ethiopia, Falkland Islands, Faroe Islands, Fiji, French Guiana, French Polynesia, French Southern Territories, Gabon, Gambia, Georgia, Ghana, Gibraltar, Greenland, Grenada, Guadeloupe, Guatemala, Guernsey, Guinea, Guinea-Bissau, Guyana, Haiti, Heard & McDonald Islands, Honduras, Iceland, India, Iraq, Isle of Man, Jamaica, Jersey, Jordan, Kenya, Kiribati, Kosovo, Kuwait, Kyrgyzstan, Laos, Latvia, Lebanon, Lesotho, Liberia, Libya, Liechtenstein, Lithuania, Macao SAR, Madagascar, Malawi, Maldives, Mali, Malta, Martinique, Mauritania, Mauritius, Mayotte, Moldova, Monaco, Mongolia, Montenegro, Montserrat, Morocco, Mozambique, Myanmar (Burma), Namibia, Nauru, Nepal, New Caledonia, New Zealand (1 of 17 regions), Nicaragua, Niger, Nigeria, Niue, Norfolk Island, North Macedonia, Oman, Pakistan, Palestinian Territories, Panama, Papua New Guinea, Paraguay, Peru, Philippines, Pitcairn Islands, Qatar, Réunion, Romania, Rwanda, Samoa, San Marino, São Tomé & Príncipe, Senegal, Serbia, Seychelles, Sierra Leone, Sint Maarten, Slovakia, Slovenia, Solomon Islands, Somalia, South Africa, South Georgia & South Sandwich Islands, South Sudan, Sri Lanka, St. Barthélemy, St. Helena, St. Kitts & Nevis, St. Lucia, St. Martin, St. Pierre & Miquelon, St. Vincent & Grenadines, Sudan, Suriname, Svalbard & Jan Mayen, Tajikistan, Tanzania, Timor-Leste, Togo, Tokelau, Tonga, Trinidad & Tobago, Tristan da Cunha, Tunisia, Turkmenistan, Turks & Caicos Islands, Tuvalu, U.S. Outlying Islands, Uganda, Ukraine, United Arab Emirates, Uruguay, Uzbekistan, Vanuatu, Vatican City, Venezuela, Wallis & Futuna, Western Sahara, Yemen, Zambia, Zimbabwe
Tracking Your Order
After the parcel is sent out, you will receive an Email containing the tracking number of your parcel. If you have issues on tracking your order, please feel free to
contact us
.
We are sorry that your order didn't work out. 
We want you to love our products, but understand in case you have different preferences. If you're not satisfied with the products received, our Support Team is here to help you with the items. Please
contact us
 for further 
assistance
.
You have 14 days to decide if the items are right for you after you received them. 

You can return or exchange any unworn, unwashed, unaltered, undamaged items in original package including your order Number. If you return for Refund successfully, our Account Department will arrange the refund for you after receiving the returned items.

O

rders must be returned at the expense of the customer.

Please

email us

the package with your Order Number & your log in account in it, we will be very appreciated if you can write down your return reason.  

After we received your returning parcel info and tracking No, we will refund your money to your account within 7 working days. 

Please understand that the we don't accept returns for gifts.