Collaboration on Photo Content
●

What we expect?

  
There is no restriction on look styles! You can either let your imagination run wild and be creative, or simply create a casual look.
✔️ Please make sure to keep eyes opened to make lashes
clearly visible,
write 
lash styles 
in the caption, and
tag us
.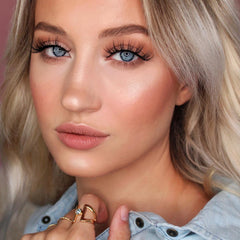 ⚠️ Please do not close eyes, otherwise the lashes will be totally invisible on the photo.
〰️〰️〰️〰️〰️〰️〰️〰️〰️〰️〰️〰️〰️〰️〰️〰️〰️〰️〰️〰️
Whether you are new to Arison Lashes or are already our old friends, you can join our Monthly Best Look Contest.
● What is Best Look Contest? 
Every month, we select
one best makeup look
from our Instagram tag and hashtag page, and award the creator. Previous winners:
Click to see
.
● Benefits for best look creators: 
1. Your Instagram name will be credited on both our Instagram account and on our blog, which is a good chance to increase influence and get to known by more people. 😊
2. You will receive a silver gift card which can be used to shop from our online store.
3. You will have a best-look coupon valid for 1 month. 
4. If you have joined our influencer benefit program, you can get exclusive coupons for your followers and extra benefit for yourself too.
5. Monthly best looks will enter Arison Best Look of the Year Contest automatically and will have the chance to win annually big award. 



● How to join: 
Simply upload a makeup look with our lashes on Instagram, and tag us. It's also recommended writing the style names in the caption, so that you will get extra benefit.

*Arison Lashes own the right of final interpretation.