Tools:

Scissors
Tweezers or Applicator
Lash glue
Step 1: Measure and trim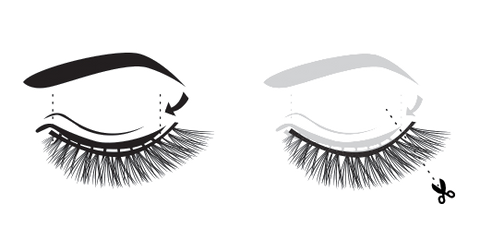 Hold the lash band up against your natural lash line, and trim the excess from the outer corner.
✨Tip: If the lashes are too long, consider trimming the individual lashes down. Lashes should be longer toward the outer corner of the eye.
Step 2: Apply lash adhesive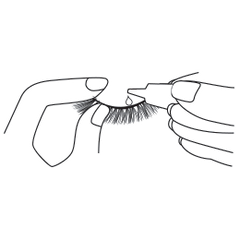 Apply the lash adhesive to the outer seam of eyelash band with an applicator or small brush. Allow the glue to dry for a moment before applying it to your lashes.


✨Tip: Alternatively, you can squeeze a thin line of lash glue onto the back of your non-dominant hand. Then, gently run the outer seam of the eyelash strip along it.
Step 3: Place and hold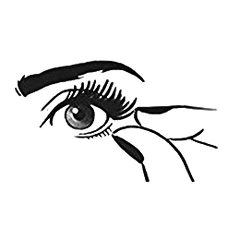 Grasp the lash with applicator, place the lash band as close as possible to your natural lash line.


✨Tip: If you have watery eyes, apply more glue to either end for extra hold.
Step 4: Dry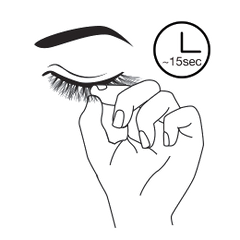 Press down and hold the lashes at the base of your lash line, and wait for at least 15 seconds.


✨Tip: Allow the glue to dry naturally. Once the strip is in place, you do not need to press or hold it.
Step 5: Apply mascara (Optional)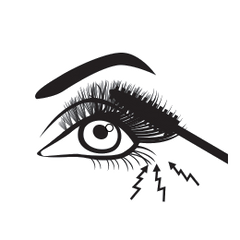 Applying mascara to your lashes
is not a recommended
step, because
the chemicals in mascara might cause damage to fake lashes
, but some people might want a better effect, then you can try. This step will help blend your natural lashes with the false ones, achieving a more natural look. You can use black, brown, or dark gray mascara.
✨Tip: Avoid using eyelash curlers directly on mink lashes. Instead, try the gentle heat from a heated lash curler to brush, blend & list lashes in place.
Nicely done!
 Shop our premium faux lashes ⤵️
---